Montreal Protocol
The Montreal Protocol is an international environmental agreement with universal ratification to protect the earth's ozone layer by eliminating use of ozone depleting substances (ODS), which would otherwise allow increased UV radiation to reach the earth, resulting in higher incidence of skin cancers and eye cataracts, more-compromised immune systems, and negative effects on watersheds, agricultural lands and forests. Since its adoption in 1987 and as of end-2014, it has successfully eliminated over 98 percent of controlled ODS, helping reverse the damage to the ozone layer. A very significant co-benefit is that it has - during period 1989-2013 - reduced cumulative CO2-eq. emissions by 135 billion tonnes. Important challenges remain. The transition from CFCs (high ozone depleting potential or ODP) to intermediate HCFCs (with lower ODP) has been completed, and the final transition is to alternatives that have zero ODP. The challenge is to develop/select alternatives (mainly in refrigeration, air-conditioning, and foam products) that are also climate-friendly.
As an implementing agency of the Multilateral Fund for the Implementation of the Montreal Protocol (MLF), UNDP supports developing countries eliminate ODS. UNDP is also an Implementing Agency for the Global Environment Facility (GEF) which funds similar programmes in countries with economies in transition. UNDP services include technology transfer and technical assistance, formulation and implementation of country and sector strategies, capacity building, accessing funding from different sources, and facilitating public/private partnerships. UNDP has assisted 120 partner countries to access $733.5 million in funding, helping to eliminate 67,870 tonnes of ODS while also reducing 5.08 billion tonnes of CO2-eq greenhouse gas emissions.
Map of UNDP portfolio on ozone and climate protection funded by the Multilateral Fund for the Implementation of the Montreal Protocol
The boundaries and names shown and the designations used on the maps on this site do not imply official endorsement or acceptance by the United Nations.
Currently, UNDP is assisting these countries comply with the HCFC consumption freeze and the 10% reduction targets. As lead agency in 29 countries and cooperating agency in 18 others, UNDP supports implementation of national HCFC Phase-Out Management Plans (HPMPs). Combined, these countries represent 77% of the global consumption of HCFCs. UNDP also supports countries convert manufacturing processes to non-HCFC climate-friendly alternatives in the foam, refrigeration, air-conditioning, solvents and other sectors. The Nov. 2014 report "Protecting the Ozone Layer and Reducing Global Warming" features UNDP case studies including technology transfer across different regions, and summarizes the results and lessons learned during 1991-2014.
UNDP activities are carried out in cooperation with the MLF, GEF, Ozone Secretariat, UNEP, UNIDO, World Bank, and a broad range of bilateral, private sector and NGO partners.
Explore more
The United Nations Development Programme (UNDP) today released a report showcasing how 120 countries…
China is helping to restore the ozone layer with the adoption of a new technology in refrigeration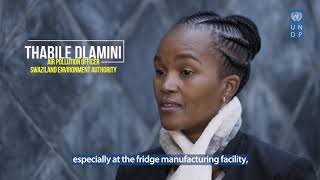 Chemicals are a part of our modern society, and each day we use various chemical-based products to…
Buenos Aires is a charming city – rich with history, magnificent architecture, and a soul and music…
This brochure highlights the results, lessons learned, and human impact from selected GEF-funded…
This report summarizes the impact of UNDP-supported activities to implement the Montreal Protocol on…
UNDP has been at the forefront of technology demonstration projects to replace ozone-depleting…
To accelerate the phase-out of HCFCs, Parties were encouraged to promote the development and the…
This report outlines the successes, enabling factors and emerging challenges of UNDP activities to…