Aid transparency
The International Aid Transparency Initiative (IATI) is a voluntary, multi-stakeholder initiative that seeks to improve the visibility of aid and other development resources in order to increase their effectiveness in tackling poverty. More than 80 donor and recipient countries, civil society organisations and other experts in aid information have joined IATI as members and are committed to working together to increase the transparency and openness of aid and other crucial sources of development co-operation. At the centre of IATI is the IATI Standard, a comprehensive, comparable and machine-readable format or framework for publishing data on development co-operation activities. Some 600 different organisations are regularly publishing detailed information on their development activities according to the IATI Standard. Humanitarian financing now forms part of the IATI Standard since it was included in the text of the Grand Bargain following the World Humanitarian Summit in Istanbul in 2016.
With its particular focus on support to partner countries, UNDP's transparency work concentrates on relevancy for national development planning, public financial management and mutual accountability at the country level, while working toward increasing implementation of the IATI Standard. As a founding member of IATI with the additional role of coordinating the Secretariat, up to August 2019 UNDP, as part of the IATI Secretariat, supports members in meeting their international commitments to transparency, whilst also encouraging greater use of data at country level for improved development effectiveness. Described as a good example of applying data standards in the outcome document from the Third International Conference on Financing for Development in Addis Ababa in July, 2015, IATI members are now considering ways in which the standard can contribute concretely to the 2030 Agenda for Sustainable Development.
UNDP also serves as a leading example of IATI Standard implementation. The independent assessment undertaken by Publish What You Fund for its 2016 Aid Transparency Index ranked UNDP first overall in transparency for the second time in succession.
Learn more about IATI by visiting its dedicated website.
Explore more
The Aid Transparency Index, produced by the campaign for aid transparency Publish What You Fund,…
Kenyan International Conference Centre - Nairobi, Kenya
Center for Global Development - Washington D.C., USA
UNDP remains the most transparent aid organisation in the world, according to a leading global…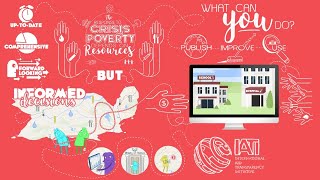 As a founding member of IATI, UNDP has been at the heart of the global transparency movement.
Before joining UNDP last month, I had collaborated with UNDP throughout my career – as a civil…
Public procurement reforms have been rolling out since the 1990s in Africa. Targeting better…
As UNDP marks its 50th anniversary year, we're also now celebrating another milestone. We've been…
COP21 closed with the adoption the first universal agreement to combat climate change. This…
Discussions around the SDGs highlight that greater access to information enables individuals to hold…
This UNDP guidance provides policy direction and indications for coordinated support for data and…
This Issue Brief provides an overview of UNDP's large portfolio of work on financing for development…